Food tour
For all the regions in over the world, it is said that food and beverage are important parts of the culture. In Vietnam, especially in Hanoi city, the local people here are also picky eaters, it is simple as they are spoiled with hundred of choices. Food is integral to the life in Hanoi, thus it is no better way to experience a day in this city like a local by being centered around eating. Joining Hanoi Street Food Tour is to let an expert lead the way to the best food stands or local restaurants in Hanoi Old Quarter. While filling up on the flavors that made Hanoi one of the world best destination for hungry travelers, you'll also learn more about the culture, history as well as observing the local life in this thousand years old town.
ITINERARY:
Duration:

3 hours

Meeting point:

Your hotel/stay

Start time:

11.15 – 11.30 for Lunch option or 18.00 – 18.15 for Dinner option
(Pick up time might be earlier if your accommodation further than the Old Quarter. For private tour, pick up time should be at 11.30 for lunch option and 18.30 for dinner option or depend on your request)
On a 3 hours walking tour you'll explore the culture, history of Hanoi, step into a world full of street food vendors. Unlike big cities all around the world, street food in Hanoi are not just hot dog carts and pretzel stands, we offer an opportunity to try out 10 different dishes at local food stand, family restaurants…
A rotating menu from day-to-day to represent the variety of delicious options, but tastings might include – but are subject to change: rice noodle soup with beef, rice noodle with chicken, rice noodle with grilled pork, snail, or dry noodle, sticky rice, along with various kinds of donut, steamed pancake or Vietnamese sandwiches.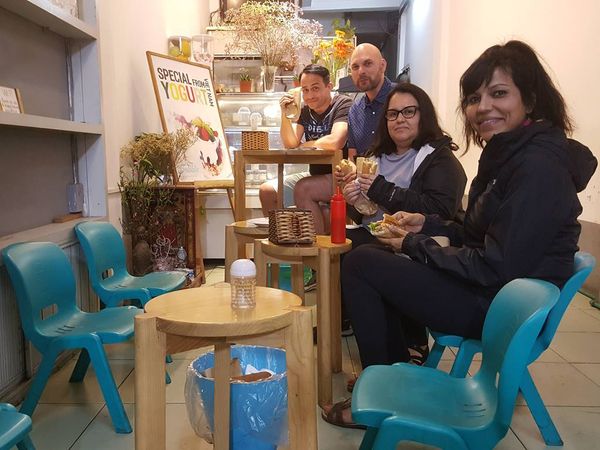 Sample menu:
Pho (beef/chicken noodle), Bun Cha (Grilled Pork With Noodle), Banh Mi (Vietnamese Bread), Banh Cuon (Steamed Rice Pancake), Banh Xeo (Fried Rice Pancake), Nom Bo Kho (Green Papaya Salad With Dried Beef), Thit Xien Nuong (Street Pork Barbeque), Banh Ran Ngot(Sweet Rice Donut), Che (Vietnamese Dessert), Ca Phe Trung (Egg Coffee)…
PRICE: $25/PERSON

Contact us to book it via WhatsApp: +84974444108 or email: an.restaurant25@gmail.com