Top 10 best Vietnamese restaurants in Ha Noi
List of 10 Best Vietnamese restaurant you have to try when you visit Ha Noi
Comparing to other parts of Vietnam, Hanoi seems to have the most typical cuisine with various dishes and tastes. Everyone in Hanoi, from the elderly to the young, is likely to love gathering around a table in a restaurant to immerse themselves in the city's street cuisine. The Hanoians love salty flavors more than the southern parts. If you are staying a few days in Hanoi, make sure you spend some time exploring the Vietnamese and also international culinary scene.
Here is an independent list of 10 best Vietnamese restaurants in Hanoi that will promisingly give you unforgettable dining experiences. Let's check it out:
1. An's Restaurant
One of the best Vietnamese restaurant in Ha Noi is An's restaurant. was established in 2013, with a starting point is a small restaurant serving Vietnamese people. After nearly 10 years of development, An's Restaurant has been constantly changing and becoming one of the best Vietnamese restaurants in Hanoi. Coming here, you will enjoy more than 50 Vietnamese dishes, with different ways of processing from one of the top chefs in Vietnam. With reasonable prices, cozy space, friendly staff. It is not too much to say that An's restaurant is the best Vietnamese restaurant in Hanoi.
Address: 25 Ngo Huyen – Hoan Kiem – Ha Noi
Hotline/Whatsapp: +84974444108
Website: ansrestaurant.com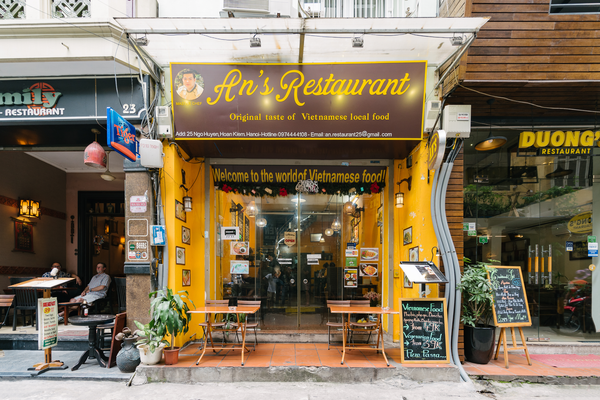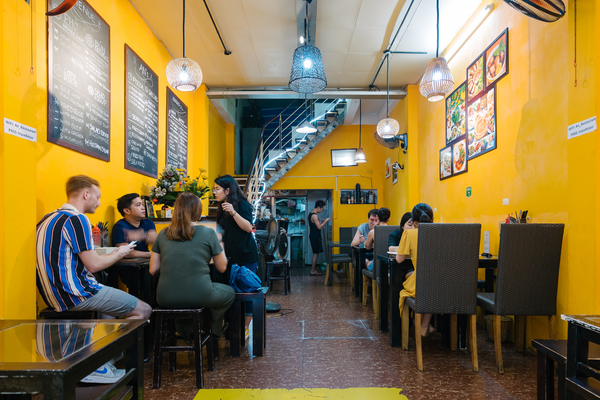 2. The Hung Snake Restaurant (Restaurant, Vietnamese)
Le Mat snake village is quite famous in Hanoi for a tradition of catching and breeding snakes for more than 1,000 years. In this village, The Hung Snake restaurant is one of the few restaurants keeping the oldest tradition. Coming here, you have a chance to enjoy many kinds of snakes such as Krait, Coluber and Cobras. Also, you can see these snakes, hold and play with them (if you are brave enough) and research more about the way villagers catch the snake. There are 11 traditional dishes with snakes and most of them should be enjoyed when it's still hot. The family-restaurant model makes the visitors feel cozy and intimate.
Location:
33 Le Mat street, Viet Hung, Long Bien district, Hanoi (11km from Old Quarter)
Opening hours
: 9 am to 11 pm
Phone:
0989331012
3. Essence Restaurant (Restaurant, Cafe, Vietnamese)
Located right on the ground floor of Essence Hanoi Hotel, the restaurant is very convenient for those staying there. Essence Restaurant offers customers with authentic Vietnamese dishes in an elegant and refined setting. Its décor is quite exotic with cutting edge contemporary design and drawings on the aesthetics of both colonial Vietnam. You can enjoy the dishes from 3 regions of Vietnam with their distinctive characteristics. The main dishes are made with beef, chicken, fish, or pork.
Location: 22 Ta Hien street, Hang Buom, Hoan Kiem district, Hanoi (1 km from Old Quarter)
Opening hours
: 6:30 am to 10 am; 11:30 am to 10 pm
Phone:
02439352485
4. Poke Hanoi (Japanese, American)
Many locals love Poke Hanoi. It has a great location near Hoan Kiem Lake. Though it's a little bit tricky to find Poke Hanoi restaurant, a small sign will help. The interior design is quite nice and if you are lucky, you can get a table on the terrace where you can overlook the lake. Even you are in Hanoi, you can still enjoy authentic taste of Japanese and American dishes. The food is fresh, healthy, delicious and colorful. The restaurant's signature bowls include: The Charles, the Hawaiian, the Californian, the Vegetarian, the Hanoian, and the Savory. Especially, you can customize your own bowl based on your taste.
Location:
11B Hang Khay, Trang Tien street, Hoan Kiem district, Hanoi (1.2 km from Old Quarter)
Opening hours
: 11 am to 9 am (from Monday to Saturday)
Phone:
0903483218
5. Mâm Cơm Việt Restaurant (Asian, Vietnamese)
This restaurant seems to convey the meaningful messages of Vietnamese traditions, cultures and humanistic values in each family. There, you can enjoy lunch or dinner while experiencing the hustle and bustle of roads in the Old Quarter through large windows. With the goal of helping gourmets get closer to the traditional culinary of Vietnam, the restaurant serves many delicious typical Vietnamese dishes. Its menu is divided into different sets based on the season and holidays, namely the spring set, the autumn set, Tet holiday set, and Full moon set.
For those who are confused about choosing what to eat for the main course, some must-try dishes include Hanoi grilled pork (Bun cha Hanoi), Grilled beef in coconut (Bo nuong trai dua), and rice noodles with fried tofu and fried nuggets (Bun dau cha com).
Location:
8
th
and 9
th
floor of JM Marvel Hotel. No 16, Hang Da street, Hoan Kiem district, Hanoi (1.8 km from Old Quarter)
Opening hours
: 11am to 11pm
Phone:
02438238855
6. Era Restaurant (Vietnamese)
Nestled in the heart of the vibrant Old Quarter, Era Restaurant is a great choice for both Vietnamese and international travelers. Founded by a couple who have a lot of experience in the travel and hospitality industry, it surely brings satisfaction to most visitors. The dishes are mainly Vietnamese, but cooked in a more creative way. The food menu does not include too many options but the food taste is really outstanding. The restaurant highly recommend 2 dishes: Hanoi style "bun cha" and traditional grilled fish "La Vong's style".
Location:
No 48, Ma May street, Hang Buom, Hoan Kiem district, Hanoi (1.7 km from Old Quarter)
Opening hours
: 11am to 10pm
Phone:
02436610999
7. 3 Spoons (Italian, Chinese)
With amazing skyline views over Hanoi city center, 3 Spoons attracts a lot of diners to visit. It offers an extensive buffet, a choice of three cuisines: Italian, Chinese, Vietnam, and interactive open stations. Some Vietnamese-Chinese food you should try are two levels steamed seafood basket and steamed chicken feet dumplings. Japanese cuisine is famous for its Sushi and Sashimi, and to serve the food at its best taste, the restaurant import seafood from Japan. 3 Spoons also serves a variety of Italian Pizza, Antipasti, and Pastas. Especially, it also has the main setting of Edition Brunch – one of the most exclusive brunch experiences in town. While eating, you can also listen to live jazz and there is a corner for your kids to play.
reLocation:
Keangnam Hanoi Landmark Tower, Pham Hung street, Tu Liem district, Hanoi (11.5 km from Old Quarter)
Opening hours
: 6:30 am – 10:30 am, 11:30 am - 2:30 pm; 6 pm – 10:30 pm.
Phone:
02436988888
8. Hoang's Restaurant (Vietnamese, Healthy)
The restaurant is highly recommended by many foreigners. You can see the friendliness of the staff right from the moment you walk into the restaurant. They are always willing to suggest you the best dishes to choose, the places to go and things to do. There are some must-try dishes in Hoang's Restaurant such as spring rolls, bun cha, green mango salad, stir fry chicken and the egg coffee. On top of that, the spring roll's flavor is so excellent with the unique dipping sauce. You may miss this taste when you are back to your country.
Location:
66 Hang Buom street, Hoan Kiem district, Hanoi (2 km from Old Quarter)
Opening hours
: 10 am – 10:30 pm
Phone:
0949814805
9. Home Moc Restaurant (Vietnamese)
Home Moc Restaurant is housed in French Villa which has been meticulously maintained for years. With a striking wooden design and furnishing, it is one of the best places for enjoying lunch or dinner with family or friends. They bring to you the best Vietnamese palates which specially focus on the most exquisite seafood. It is not just a meal, but also a journey through culture, history and the heritage of Vietnam. Home Moc's signature dishes from the excellent chef are Hanoi grilled "cha ca" and aroma salsa (Cha ca Ha Thanh), Baked herbal chicken in a clay pot (Ga nuong mat mia), and deep fried crispy pork belly with "mam" sauce (Ba chi heo chien mam).
Location:
31 Van Ho 2, Le Dai Hanh street, Hai Ba Trung district, Hanoi (3.3 km from Old Quarter)
Opening hours
: 11 am – 2 pm, 5 pm – 10 pm
Phone:
02439588666
10. Sen Trang An Vietnam (Vietnamese)
If you have been to Hanoi, do not skip Sen Trang An Vietnam, of which the service is pretty good. The staff will greet you and quickly take your order and serve the meal. If you want to enjoy the authentic Vietnamese food or hot pot, go nowhere but this restaurant. The cozy atmosphere and reasonable price are huge pluses for the restaurant. There are 3 must-try dishes voted by the gourmets, which are fried duck with basil leaves, stir-fried Pho with Beef, and stir-fried Pho with Chicken.
Location:
43 Hang Be, Hang Bac street, Hoan Kiem district, Hanoi (450m from Old Quarter)
Opening hours
: 11 am to 10 pm
Phone:
0936688353
With this list of the best Vietnamese restaurants in Hanoi, hope that you can find the most suitable for you. Let's choose and go for exploring Hanoi culinary.